TheraTears® EXTRA® Dry Eye Therapy Preservative Free Vials
Preservative Free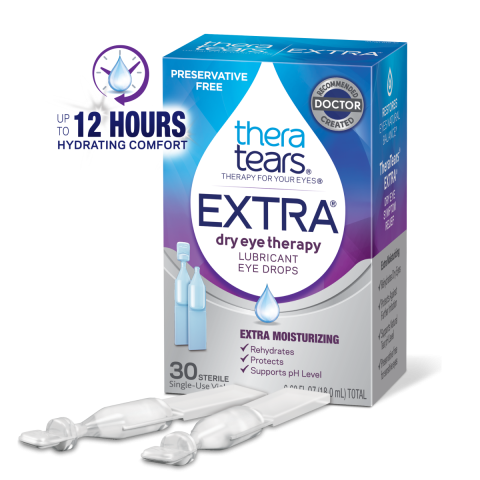 TheraTears® EXTRA® Dry Eye Therapy Preservative Free Vials
TheraTears® EXTRA® Dry Eye Therapy Preservative Free Lubricant Eye Drops
Up to 12 Hours of Hydrating Comfort!
EXTRA moisturizing to rehydrate, protect, and support pH level

Now available in preservative free single dose vials 

Created by an ophthalmologist after 18 years of research

Hypotonic and electrolyte balanced formula with OSMO-CORRECTION® reduces osmolarity over time enhanced to provide EXTRAordinary relief
To open,

twist

tab completely off.

Instill 1 or 2 drops of TheraTears® EXTRA® in the affected eye(s) as needed

Active ingredient

: sodium carboxymethylcellulose 0.25%

Inactive ingredients

: Boric acid, calcium chloride, hydrochloric acid*, magnesium chloride, potassium chloride, sodium bicarbonate, sodium borate, sodium chloride, sodium hydroxide*, sodium phosphate, trehalose, and water for injection.

*May contain these ingredients to adjust pH.

For external use only

To avoid contamination, do not touch tip of opened container to any surface. Do not reuse. Once opened discard. Use individual vials within 90 days of opening foil pouch.

This product contains no preservatives

. Any solution not used immediately after opening should be discarded. Re-use of this single-use product may lead to inflammation of the eye and/or discomfort, based on potential contamination during handling.