TheraTears® EXTRA® Dry Eye Therapy Lubricant Eye Drops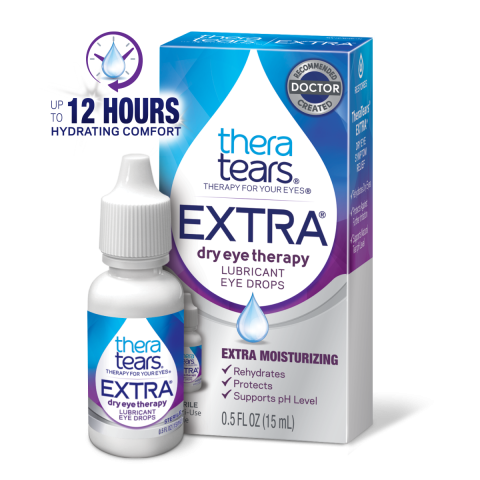 TheraTears® EXTRA® Dry Eye Therapy Lubricant Eye Drops
Up to 12 Hours of Hydrating Comfort!
Extra moisturizing to rehydrate dry eyes, protect from further irritation and support your eyes' natural tear pH level

TheraTears® EXTRA® is hypotonic and electrolyte balanced to replicate healthy tears

TheraTears® EXTRA® uses a unique preserving ingredient that turns into pure oxygen and water on eye contact

Available in 15mL and Twin Pack (2-15mL bottles)
Instill 1 or 2 drops of TheraTears® EXTRA® in the affected eye(s) as needed.

Active ingredient

: sodium carboxymethylcellulose 0.25%

Inactive ingredients

: Boric acid, calcium chloride, Dequest®, potassium chloride, sodium bicarbonate, sodium borate, sodium chloride, magnesium chloride, sodium perborate, sodium phosphate, trehalose, and water for injection.

For external use only

To avoid contamination do not touch tip of opened container to any surface. Replace cap after using.